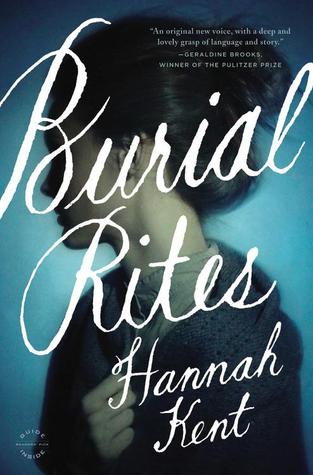 Burial Rites is based on the true story of the last woman executed in Iceland after being found guilty of murder. Agnes, along with two others, is sentenced to death for their murder of their master. Awaiting her execution day, Agnes is sent to live with a family in a farm where she asks for the priest Toti, specifically, to be her spiritual guidance. The events unfold in a manner of present-time retelling and flashback narration. Slowly, Agnes begins to reveal what happened to get her to where she is now.
Kent's debut novel, Burial Rites, is not for those looking for a light read. Beautiful, mysterious, and haunting, Burial Rites is heavy and lyrical. Each character develops through a set of eyes. Agnes, the main character, narrates through her point of view but also her story is narrated in third person on occasion, symbolizing how stories change with perception. I grew to love most of the characters. It is almost unexpected how gripping this novel is - you have no idea it has taken ahold of you until you turn the final page.
Although Burial Rites is not plot-heavy, there is a sense of urgency and mystery. At times it is slow and at times you can't put it down, but you don't want to read this book in a single sitting. The writing is best appreciates slowly and steadily. One gets a real sense of time and place through the atmospheric descriptions the author uses. Delicate at first, the relationships between the characters takes center stage in the novel. It is more of a novel about the final days of life rather than the whodunnit that happened outside novel's pages.
Burial Rites is surely one of the best novels I've read this year and although I finished it more than a week ago, I cannot let go. It is a novel that will grip you for a long time.
Have you read this book? What do you think?