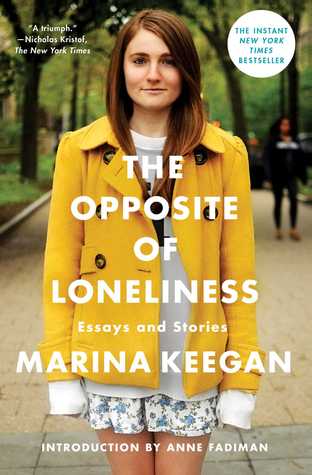 An affecting and hope-filled posthumous collection of essays and stories from the talented young Yale graduate whose title essay captured the world's attention in 2012 and turned her into an icon for her generation.
Marina Keegan's star was on the rise when she graduated magna cum laude from Yale in May 2012. She had a play that was to be produced at the New York International Fringe Festival and a job waiting for her at the New Yorker. Tragically, five days after graduation, Marina died in a car crash.
As her family, friends, and classmates, deep in grief, joined to create a memorial service for Marina, her unforgettable last essay for the Yale Daily News, "The Opposite of Loneliness," went viral, receiving more than 1.4 million hits. She had struck a chord.
Even though she was just twenty-two when she died, Marina left behind a rich, expansive trove of prose that, like her title essay, captures the hope, uncertainty, and possibility of her generation. The Opposite of Loneliness is an assem­blage of Marina's essays and stories that, like The Last Lecture, articulates the universal struggle that all of us face as we figure out what we aspire to be and how we can harness our talents to make an impact on the world. (Goodreads)
The Opposite of Loneliness divides into half short stories and half essays. After hearing my friends rave about it I decided to finally give it a try. At first, I have to admit, I was very wary of reading it for several reasons. First, Marina's story ended tragically and part of me thought that the last of her spirit was contained in this book and that's such a big thing. Second, she had a bright future ahead of her and people were saying her writing was beyond her years. However, as a writer myself, I felt a bit skeptical and maybe even jealous. What if her work was really so amazing? What if it wasn't but knowing she had so much talent and potential make it unfair that this book is published? I'm not sure if I'm making sense here so I'll just go ahead with the review.
I'm very impressed by Marina's observations about life. At a young age, she was able to convincingly capture characters of many different ages. I was also impressed that she didn't stick to one specific subject. Ms. Keegan writes stories in different settings, including a story that takes place thousands of feet underwater in a submarine.
At times, her short stories can be a bit too conventional. But then she writes a line or two that is so beautiful that you are reminded both about her short life and the talent that was just beginning to bloom. I must say, I was looking forward to reading her essays because I thought she had a particular insight. However, they were a bit of a letdown after such beautiful such stories. I was not particularly interested in any of her essays except the essay titled "Why We Care about Whales," which was the best of the essays.
Overall, I'm just sad about this book. I'm sad that Marina Keegan's talent didn't get to bloom like it should have. I'm sad that these are the only works we have from her and I'm sad knowing that she might have not wanted us to see some of it.
Have you read this book? What did you think?

Xo, Patricia