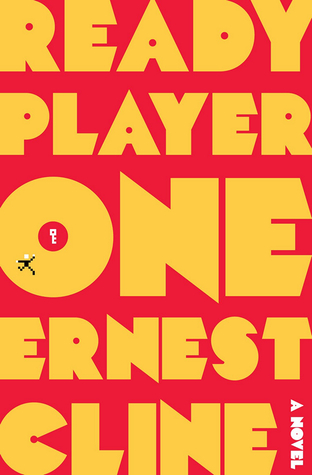 In the year 2044, reality is an ugly place. The only time teenage Wade Watts really feels alive is when he's jacked into the virtual utopia known as the OASIS. Wade's devoted his life to studying the puzzles hidden within this world's digital confines, puzzles that are based on their creator's obsession with the pop culture of decades past and that promise massive power and fortune to whoever can unlock them. When Wade stumbles upon the first clue, he finds himself beset by players willing to kill to take this ultimate prize. The race is on, and if Wade's going to survive, he'll have to win—and confront the real world he's always been so desperate to escape. (GoodReads)
I was really skeptical about this book at first. First, it is geared towards YA crowds, which I abandoned about three or four years ago. Second, it was very...geeky sounding. I'm not interested in video games or anything like that so I didn't find the appeal of it. However, more and more people that I knew read it and loved it so I had to give it a shot.
Just like many other people during this era, Wade was completely immersed in this virtual reality. It was not just a game, but it housed his friends, school, and everything else you can imagine. When the creator dies, he decides to make a quest. The winner of such quest would then be heir to his fantastic fortune. Since then, Wade and millions of others have been in search for this hidden key that opened the ultimate prize.
I listened to this as an audiobook, which I definitely recommend because the narrator is even referenced in the book! The game and the book itself is riddled in countless of 80s references, some of which I recognized but I'm sure I missed plenty. It was interesting to see that the author chose to reflect back on this era rather than the current (2000s), given that it's a book geared towards a younger generation.
At first, I wasn't really into the book. it took me about halfway through to be completely immersed but then I found myself laughing and gasping during plot twists. It's not completely surprising but it also isn't too predictable. The characters were a bit flat, in my opinion but I really enjoyed the world-building. At times, however, I felt like I was getting a bunch of information that might have been explained in a more subtle way.
The race towards the end of the book (and finding the key) was so exciting I found myself listening to the book while just sitting in a chair because I wanted to see how the chapter ended. I think that overall this is a very easy book to read and like. I don't think it's a favorite but I would recommend it as a light, fun park or beach read for the upcoming season!
Have you read this book? What do you think?
Xo,
Patricia