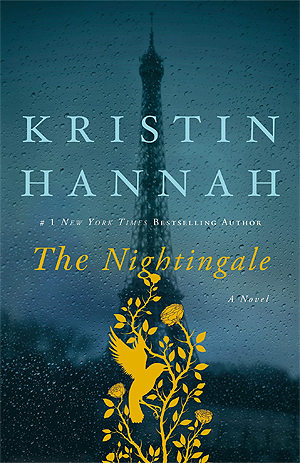 FRANCE, 1939
In the quiet village of Carriveau, Vianne Mauriac says goodbye to her husband, Antoine, as he heads for the Front. She doesn't believe that the Nazis will invade France...but invade they do, in droves of marching soldiers, in caravans of trucks and tanks, in planes that fill the skies and drop bombs upon the innocent. When France is overrun, Vianne is forced to take an enemy into her house, and suddenly her every move is watched; her life and her child's life is at constant risk. Without food or money or hope, as danger escalates around her, she must make one terrible choice after another.
Vianne's sister, Isabelle, is a rebellious eighteen-year-old girl, searching for purpose with all the reckless passion of youth. While thousands of Parisians march into the unknown terrors of war, she meets the compelling and mysterious Gäetan, a partisan who believes the French can fight the Nazis from within France, and she falls in love as only the young can...completely. When he betrays her, Isabelle races headlong into danger and joins the Resistance, never looking back or giving a thought to the real--and deadly--consequences. (GoodReads)
I've read many World War II novels. They are all equally tragic and leave you with an empty feeling inside. However,
The Nightingale
by Kristin Hannah had a unique approach that sucked me right in. Two sisters in France experience a completely different WWII story and each is so powerful that it has stayed with me since I read the last page.
At first, I felt myself struggling to relate to Vianne but then I realized how true and raw her story was--she was surviving the same way Isabelle was surviving. This book speaks to friendship, love, relationships, and war. I found myself sobbing in various places. I didn't realize how much this book had captured my heart until the end.
Talking about the end, I loved how Hannah tied up all the loose ends. However, I did feel like it was a bit rushed. After so many pages, I wished she would have spent a bit of more time tying up those loose ends. But maybe it was appropriate, I feel like dwelling in the past is something that none of the characters would have done.
Overall, I give this book a five star rating and it is one of the favorites of the year so far!
XO
Patricia