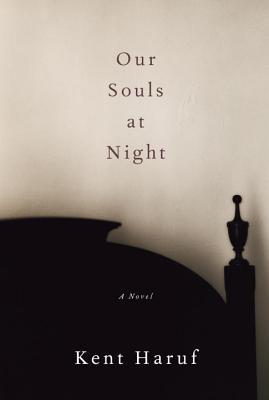 In the familiar setting of Holt, Colorado, home to all of Kent Haruf's fiction, Addie Moore pays an unexpected visit to a neighbor, Louis Waters. Her husband died years ago, as did his wife, and in such a small town they naturally have known of each other for decades; in fact, Addie was quite fond of Louis's wife. His daughter lives hours away in Colorado Springs, her son even farther away in Grand Junction, and Addie and Louis have long been living alone in houses now empty of family, the nights so terribly lonely, especially with no one to talk with. (GoodReads)
Our Souls at Night follows to people in their elder years, both alone, as they re-discover love and friendship.
I've never read a Kent Haruf book but the reviews of this particular one (his last) makes me want to read others, as well. This is a short novel and although I liked it, I suspect it's not his best work.
This novel was endearing and at times sad. I didn't really understand why the relationship between Addie and Louis was seen as so scandalous. I liked both characters, although they were a bit one-dimensional. I expected most from them. In addition, the secondary characters were a bit flat, as well. I didn't understand their motivations and their actions didn't make sense to me.
Overall, a nice, short read.
Have you read any other Haruf books?